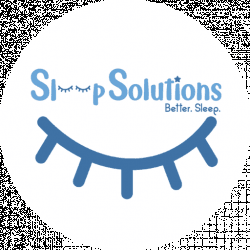 Latest posts by Sleep Solutions HQ Team
(see all)
There are few comforters that can compare to the luxury and loft of a down comforter, except for down alternative. Originally down alternative comforters were seen as cheap knock-offs and hardly were a proper alternative to down.
They lack warmth, loft, and the overall quality that is associated with traditional down. However, those days have long since passed, and down alternative comforters now rival real down in nearly every aspect, not to mention they tend to be far more reasonably priced.
Even though real down will likely always remain the "crème de la crème" of bedding, there are plenty of reasons why people opt for down alternative. Perhaps they are on a tight budget or don't feel the hefty price tag of real down is reasonable.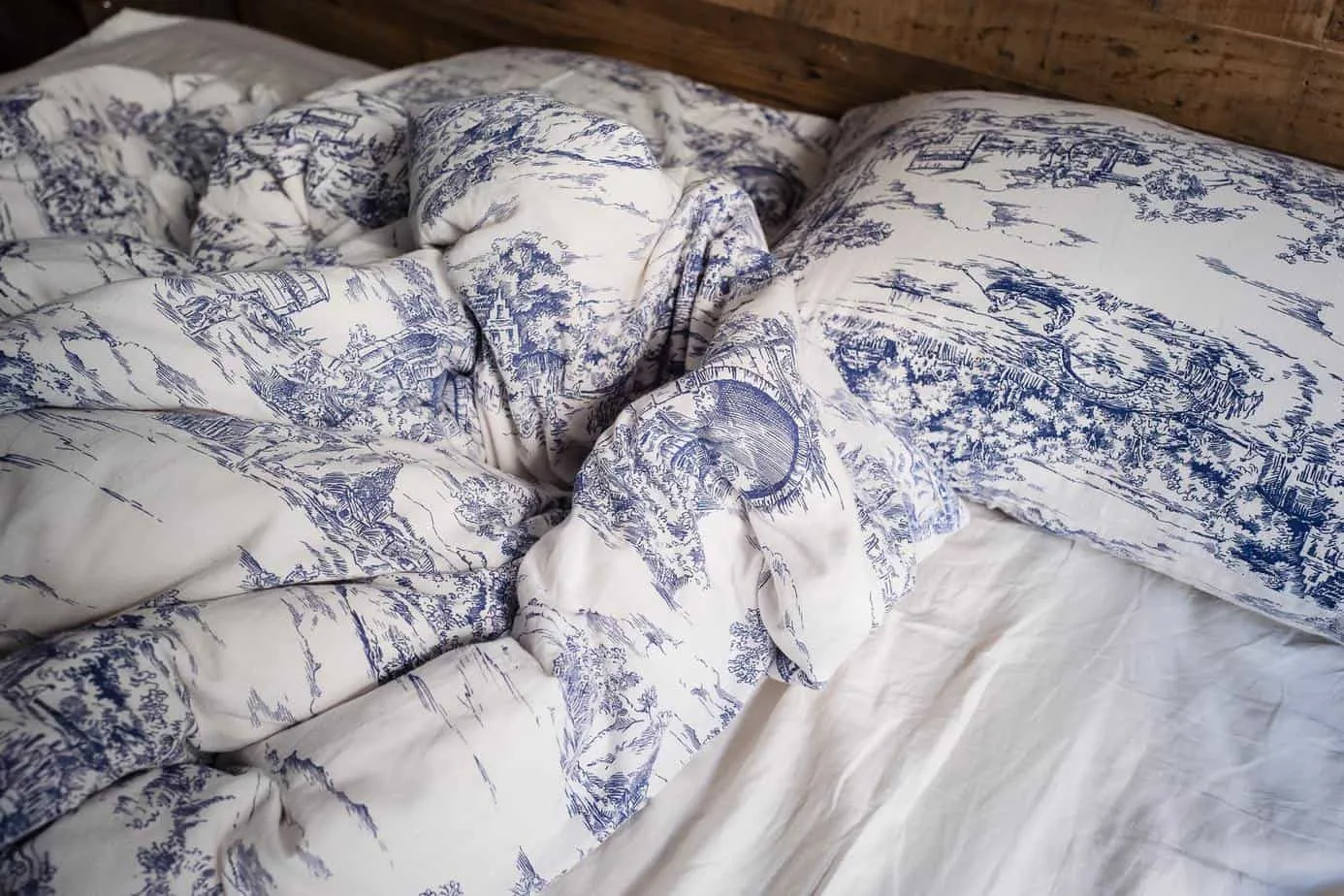 Others may have allergies and simply can use down. Others may prefer the lighter warmth of some down alternative. Finally, those that live a vegan lifestyle may be unable to use animal products, and therefore down alternative is the only choice.
Regardless of why you're interested in down alternative comforters, you can rest assured that there are plenty of cozy, warm, fluffy comforters out there that are just as high quality as their real down cousins.
Here are the five best down alternative comforters you can find.
Chezmoi Collection White Goose Down Alternative Comforter
The Chezmoi Collection down alternative comforter is a luxurious blanket designed for all-year use. It is designed to be used with a duvet cover and includes corner tabs for this purpose. The Chezmoi comforter is available in three sizes:
Twin – 64″ x 88″
Full/Queen – 88″ x 88″
King – 102″ x 90″
This comforter has a box stitching design which prevents the down-alternative fill from moving around. The edges are piped for a more high-end look and there are corner tabs on all for corners for easy anchoring to a duvet cover of your choice.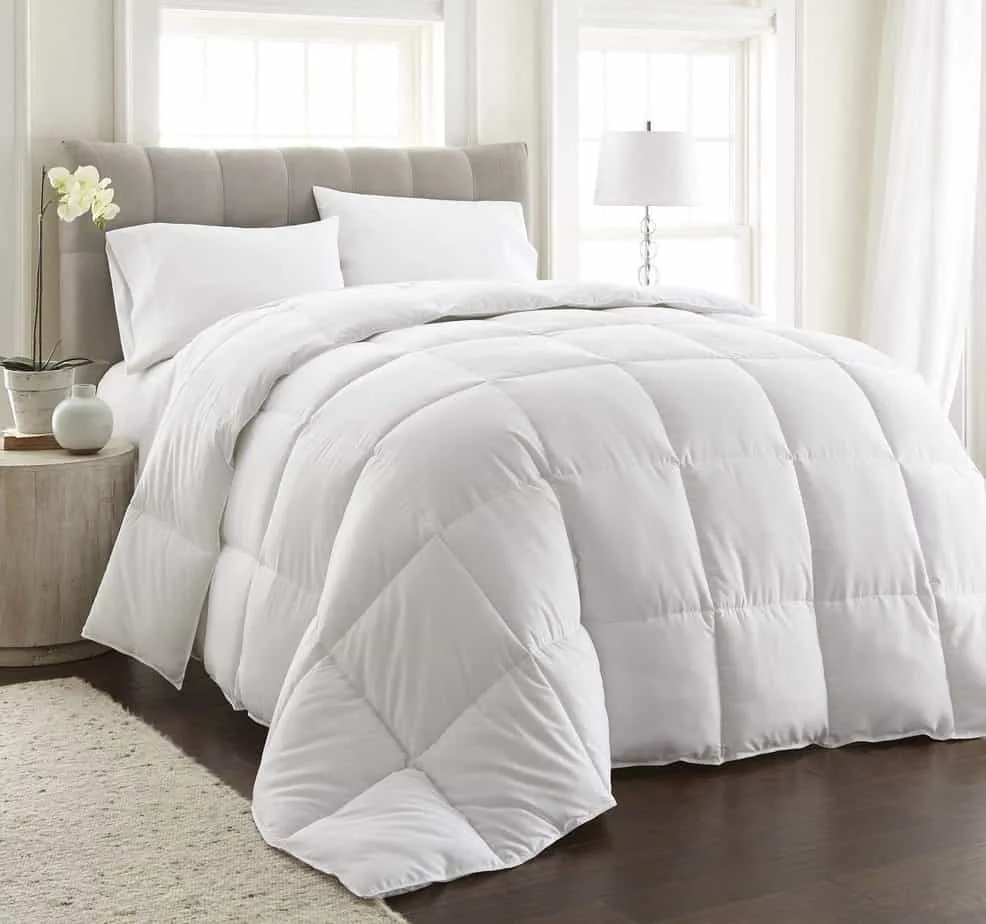 This comforter is completely synthetic and the cover is made of polyester. It is 100% hypo-allergenic and the poly fiberfill is suitable for anyone, including children.
Like many down alternative comforters, the Chezmoi comforter requires little care. Simple machine washes on a gentle cycle and allows to tumble dry on low. The loft of the king-sized comforter may require the use of a large laundromat washing machine, depending on what you have at home.
This medium-warmth comforter retails from $35 to $45 depending on blanket size.
Equinox International Down Alternative Comforter
The Equinox International Down Alternative Comforter is a best seller and extremely well-priced. It features a very soft microfiber cover, which makes for a nice change from the typical polyester covers. This comforter also has an amazing loft when compared to real down. Equinox International offers this comforter in two sizes:
Queen – 86″ x 86″
King – 102″ x 90″
Unlike other down-alternatives that simply used a poly fiberfill, this comforter has a 6D hollow siliconized gel fiber. This is incredibly soft to the touch and won't compress or lose it's loft over time.
The materials used in this comforter are still 100% hypoallergenic, as well as antibacterial and resistant to dust mites, mildew, and general allergens. It remains fairly lightweight despite being warm and thick.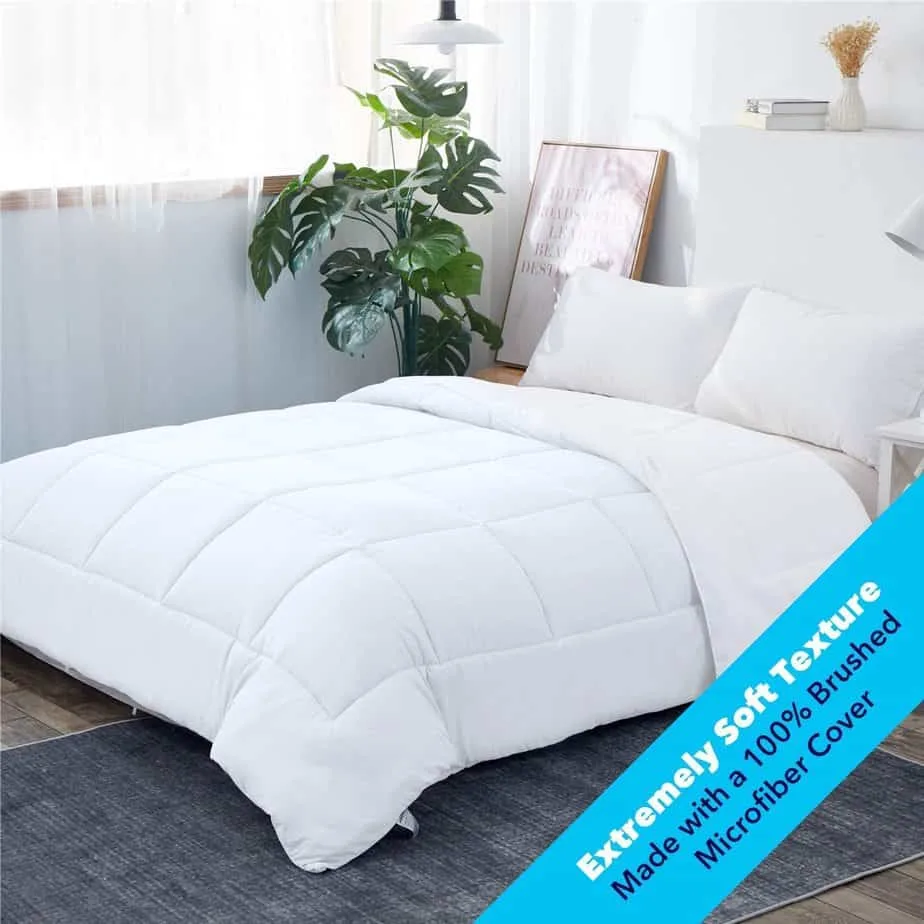 This comforter is square stitched and has piped edges. It is easy to re-fluff as well. You can use this comforter alone (it is a white color) or use it with a duvet cover. Care involves handwashing or careful machine wash on low with air drying.
This comforter retails for about $30 for the queen size and about $42 for the king.
LinenSpa All-Season White Down Alternative Quilted Comforter
If you're looking for a line of affordable down alternative comforters that offers a plethora of different sizing so you can outfit every bed in your home, the LinenSpa All-Season is an excellent choice. LinenSpa offers this blanket in a whopping 8 different sizes, which include:
Twin – 68″ x 86″
Twin XL – 68″ x 92″
Full – 82″ x 86″
Queen – 88″ x 92″
Oversized Queen – 98″ x 98″
King – 106″ x 92″
Oversized King – 116″ x 98″
California King – 102″ x 96″
LinenSpa also offers this comforter in not just a classic white shade, but also navy/graphite, sand/mocha, and stone/charcoal. All of their comforters also come with a 3-year warranty.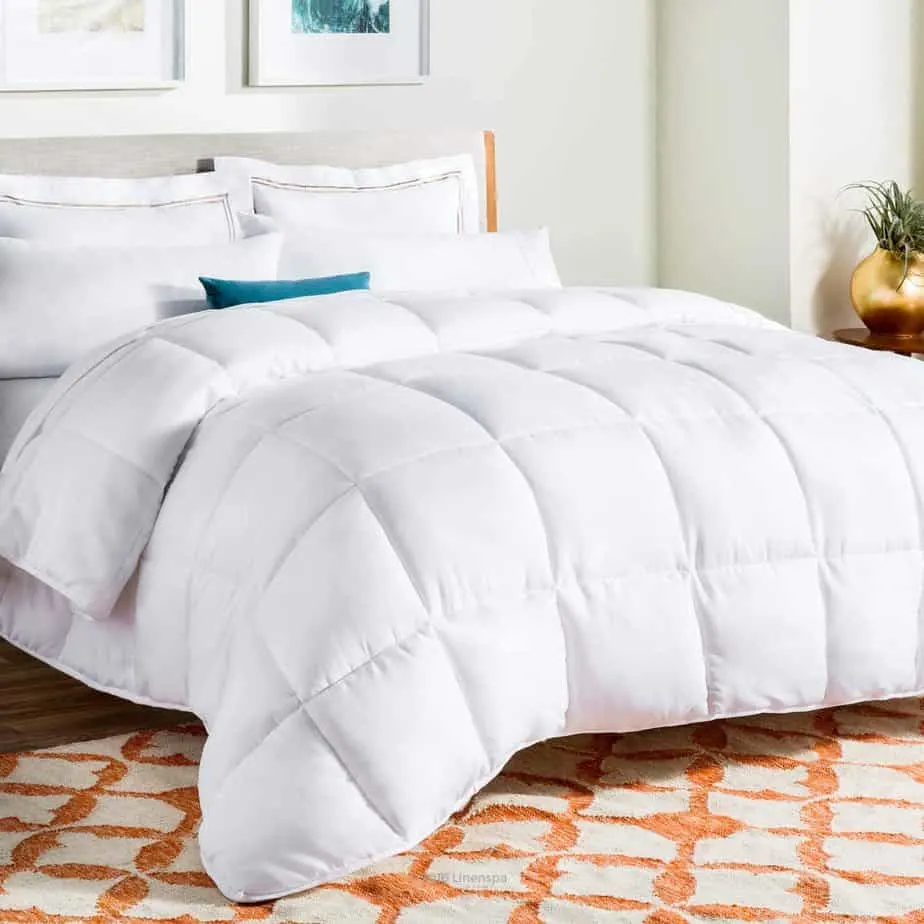 The LinenSpa Down Alternative comforters are super soft thanks to the microfiber cover. These covers are also reversible and may be used with a duvet cover as well (complete with corner tabs). These comforters all machine washer and dryer safe.
LinenSpa categorizes these comforters as a mid-weight, which is versatile enough for year-round use depending on your home's temperature. The comforters are box stitched and filled with a soft, hypoallergenic microfiber material.
You can find these comforters for anywhere from about $30 to $60, depending on size.
Utopia Bedding Comforter Duvet Insert White
Another comforter that uses siliconized fiberfill as a down alternative is Utopia Bedding's Comforter Duvet Insert. As the name suggests, Utopia designed this comforter to be used with a duvet cover, though there really is no reason why you can't use it on its own. Utopia has this comforter available in 3 sizes:
Twin – 64″ x 88″
Queen – 88″ x 88″ (can also be used as a full)
King – 90″ x 102″
This comforter features the typical box stitching as you'd expect but the edges aren't piped. The filling does stay still and isn't prone to clumping, however. Utopia ensured that this comforter is easy to care for, and maybe machine washed and dried with care. It is a super-soft comforter with a 350 GSM fill rating.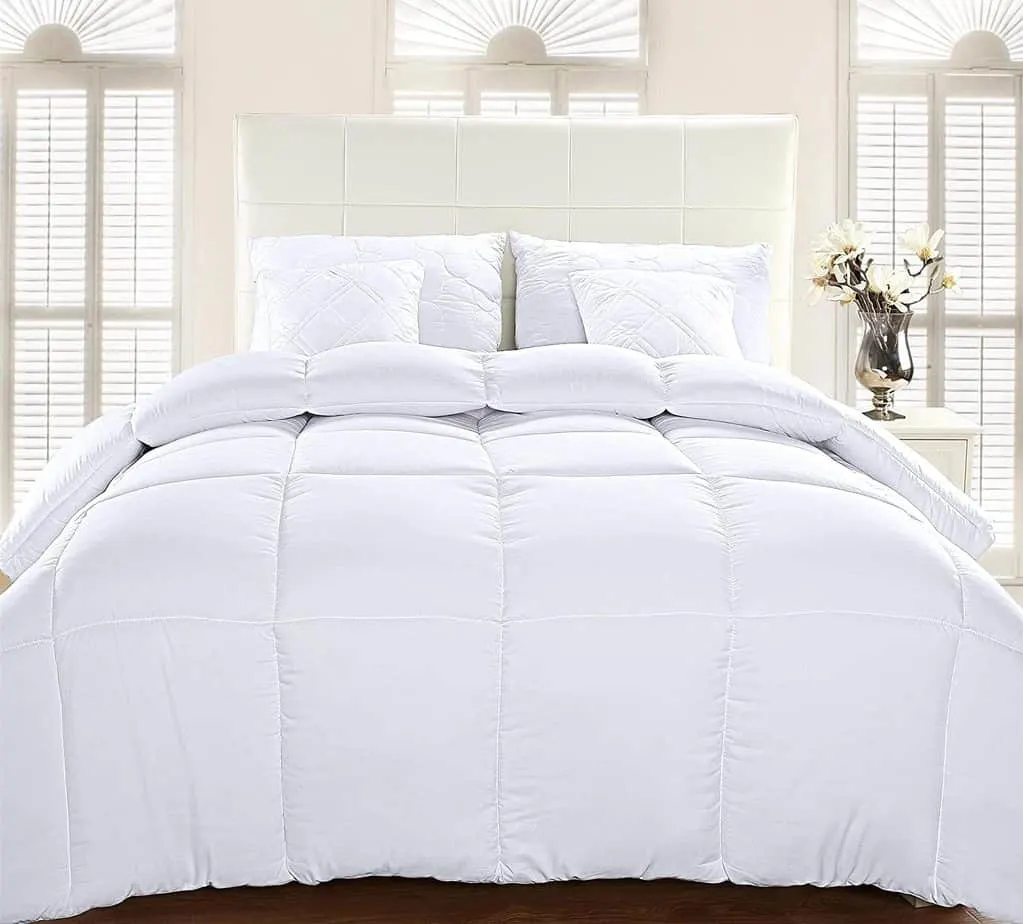 Like other down alternatives, this model is 100% hypo-allergenic and free from allergens. It is great for anyone with allergies, even if you're allergic to dust mites or mildew as this comforter won't host either nasty.
Utopia Bedding has these comforters priced at about $29 for the twin, $35 for the queen, and $45 for the King. All very reasonable and competitive prices.
Royal Hotel's 300 Thread Count King Size Goose Down Alternative Comforter
There is not that quite says luxury like laying down in a spacious king-size bed and being surrounded by a pristine soft white down comforter.
When it comes to king-size down alternative comforters there aren't a whole lot of options due to the larger size, but one brand that has really created a comforter that is extremely soft yet very affordable is Royal Hotel.
Royal Hotel does offer this same comforter in Twin/Twin XL and Queen sizing, but it's the King size that really stands out. This comforter retails for $85, which is slightly more than other budget brands but is well worth the extra cost.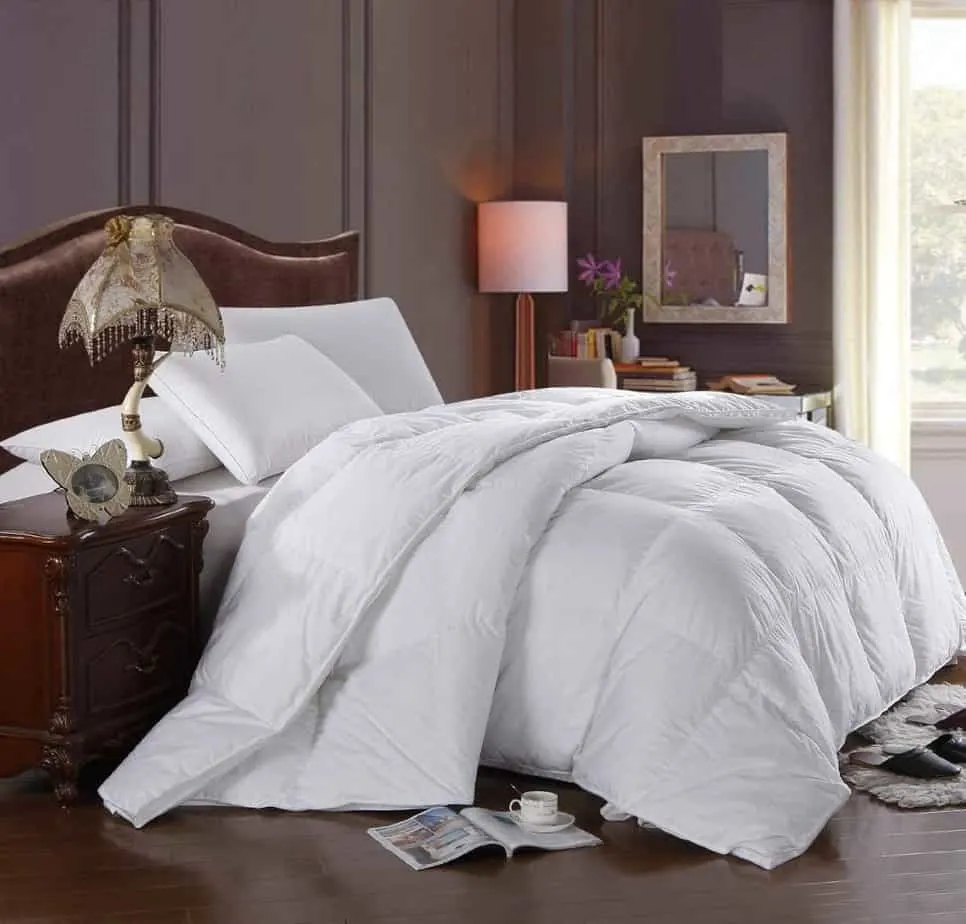 This luxury goose down alternative is rated as medium-warmth and is equivalent to a 750 goose down fill. The fill used is completely hypo-allergenic and free of allergens. The cover is 300TC cotton that is also considered hypo-allergenic.
This comforter is stitched with a baffled wall box design which offers better shifting or clump protection than regular box stitching. Royal Hotel also added a 1″ side gusset for maximum warmth. Overall this comforter is a steal for the price and one that really feels like an actual goose down.
Before you spend big bucks on real down, really consider trying down alternative first. The higher-end down alternative brands can hardly be told apart from real down when touched and are more economical.
Down alternative is a particularly good choice for guest rooms or children's rooms as well. Any one of these featured down alternative comforters will surely leave you wanting to lay on your bed all day.
Further read: