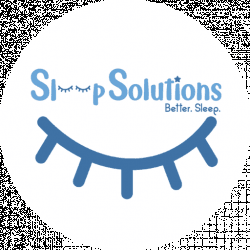 Latest posts by Sleep Solutions HQ Team
(see all)
People who value their physical and mental health put a lot of emphasis on having a good night's sleep. And, of course, such a sleep requires a proper environment, within a dark room, the right temperature, fresh air, good humidity, and the best bedding accessories money can buy. As you lie down on your bed, there are three things that can ensure maximum comfort: a solid mattress with the right level of firmness, a soothing and pleasant set of bedsheets, and a pillow that's just the right amount of fluff you need. Today, we're going to focus on wedge pillows, but not before presenting you with a short guide on the awesomeness of pillow varieties.
Pillow Kingdom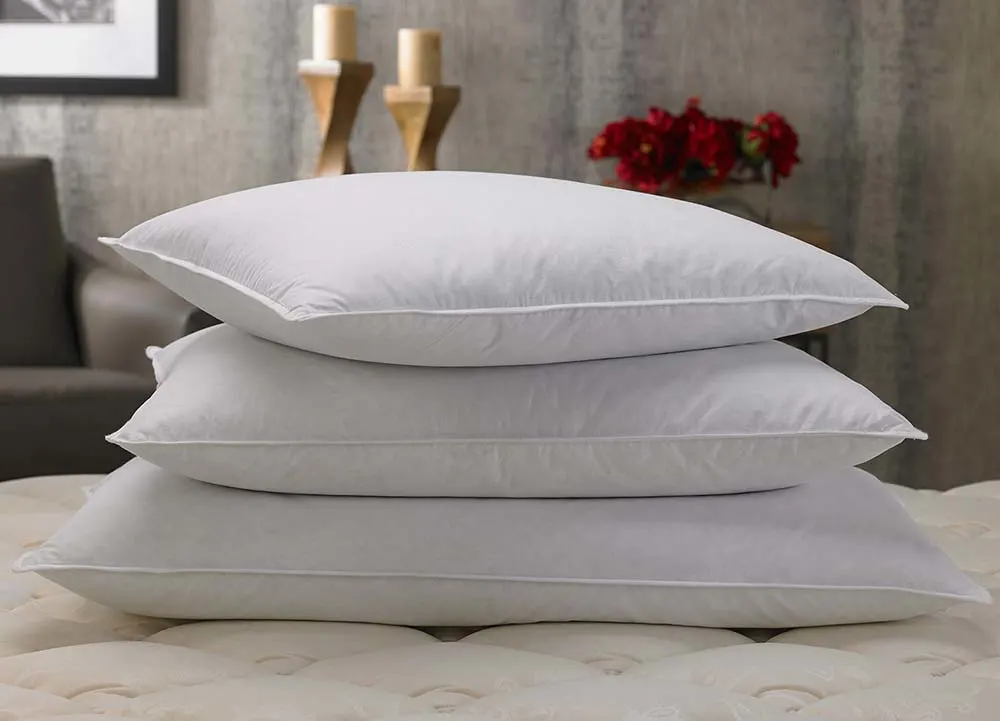 What if we told you there aren't two, five, seven, but 13 different types of pillows to choose from? Depending on their inserts, pillows come in a wide range of shapes and sizes, and one that's extremely comfortable for you may cause great discomfort to another. That's why we can't tell you that either one of the following types of pillows is the best because it's all a matter of needs and personal preferences.
Feather
Back in the days, you didn't have a lot of types of pillows to choose from and feather pillows were the most common choice for most people. One normally associates feather pillows with fluffiness, but the ones that are really high in quality are those with carbon fiber-like feathers.
Down
Pillows with down inserts are characterized as being very puffy and soft. It's basically like squeezing a giant plush toy. Since they are filled with the bird's fluffy undercoat (in other words, feathers without quills), a down pillow is normally softer compared to a feathered pillow. Even if these two types of pillows have had a good run in the past years, it would seem that people are redirecting their attention towards more animal-friendly options, that don't involve plucking anyone's feathers.
Polyester
Yes, there is such a thing as polyester pillows, because they are cheaper compared to other types. Because of their lower price, they are easy to care for, but they don't have a very long lifespan. A great downside is actually the fact that most manufacturers use chemicals to make polyester pillows and while no actual tests have been made, people steer clear from pillows that might represent a safety hazard.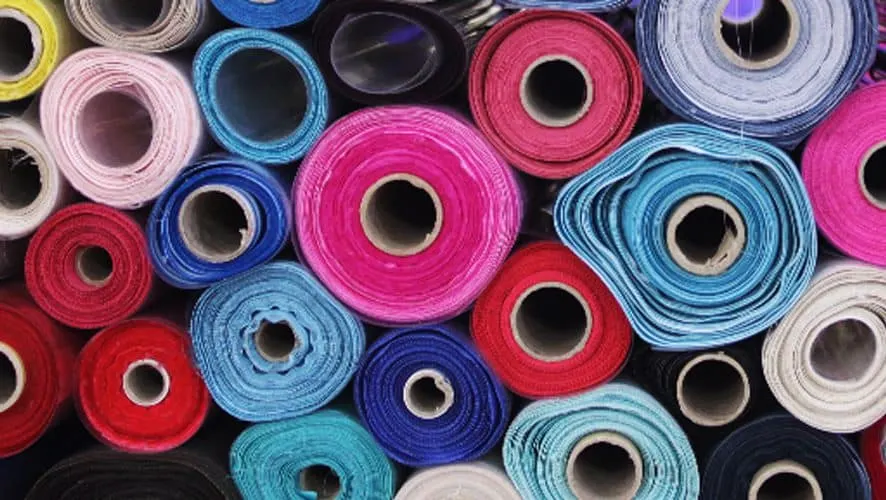 Memory Foam
It's no surprise that memory foam has made its way onto the pillow market since it has become one of the most popular core materials of mattresses. The major reason why people choose memory foam is that, in time, the foam takes the shape of your body to seem like the pillow was made especially for them. Memory foam basically supports your body in sleeping in the most natural position possible. But even memory foam can sometimes emit a powerful chemical odor.
Shredded Memory Foam
Picture a large chunk of memory foam that's cut into tiny shreds. Why would anyone want such a pillow instead of a memory foam one? That's because there are enough spaces between the shreds to ensure better breathability. These types of pillows are great for people who tend to sleep hot, but also in houses where the humid environment needs a counter-attack. Because of the tiny shreds, these pillows also mold better underneath your head's pressure. High-quality shredded memory foam pillows also have hypoallergenic properties, some of them being dust mite resistant.
Latex
Latex pillows are a great alternative for memory foam ones. They have great breathability features and represent a viable option for people who tend to sweat a lot in their sleep. Because of the nature of latex, these pillows are also dusted mite resistant and hypoallergenic, but they also provide great shoulder and neck support. Latex is also known for being a very resistant material, but that's not the main reason why people choose latex pillows. It's because of their high level of support, preventing any possible headaches due to improper sleeping positions.
Buckwheat
Surprisingly enough, someone actually thought it was a good idea to introduce buckwheat to the pillow industry. What's even more surprising is that people actually buy them because they are a fan of hard pillows. Buckwheat is a good organic option to pillows that are rich in chemical odors because they are natural and plant-based. But remember, they are the least fluffy pillows ever.
Microbeads
If you've ever heard of unexpanded polystyrene, then you might guess what these microbeads look like. Just like buckwheat pillows, the ones that contain microbeads provide hard support and are commonly used in travel pillows.
Neck Pillows
If you're looking for a pillow that's great at providing spinal support, the neck pillow is one of your best bets. It provides a high level of support for both your neck and your head while making sure the spinal alignment is correct and your body is forced to sleep in a proper posture.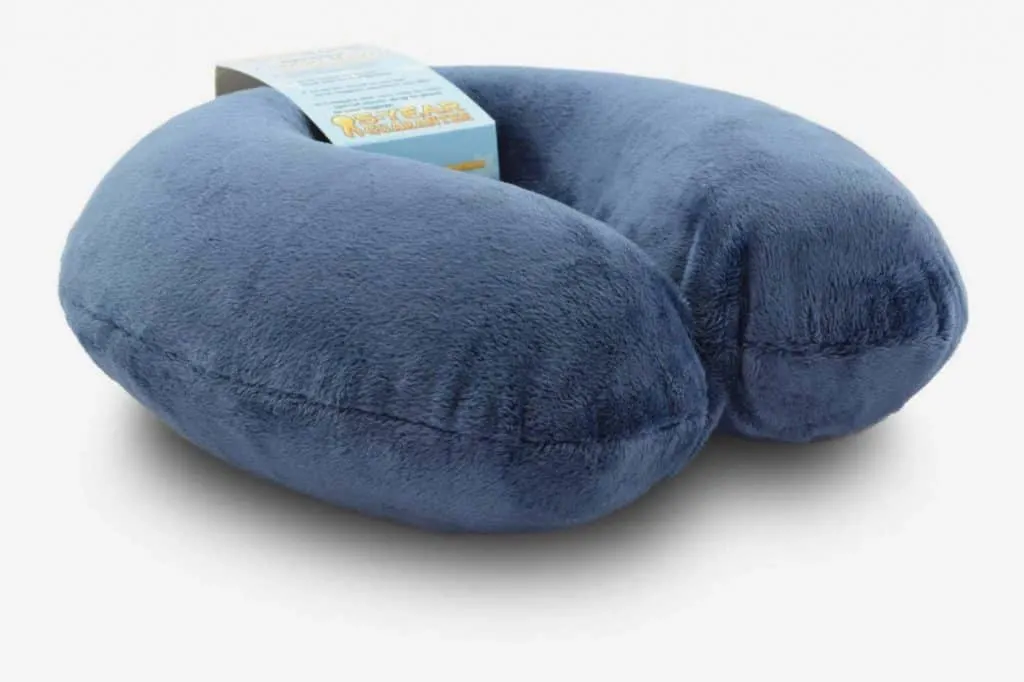 Body Pillows
While they aren't that common, body pillows are a great option for people who like to snuggle when they're sleeping. They are usually very long and are the best place in between a side sleeper's legs in order to provide good hip support. They are extremely popular among pregnant women who have limited mobility and a narrow range of options when sleeping.
Wedge Pillows
Our stars of the day, wedge pillows are characterized by a triangular design that's looking to support your body's most vulnerable parts. Generally made with foam or polyester fiberfill, these pillows are very easy to recognize and are suitable for people who like to do more than just sleep in a bed. They are great for readers, people who like to spend a lot of time lying down and watching TV or who like to grab their laptops and do some work when lying in bed. Depending on its position, a wedge pillow can elevate different parts of your body and not just the upper part. For instance, it can be placed at your feet to lift them up and eliminate discomfort caused by health problems such as varicose or acid reflux. Stay tuned, the best wedge pillows will be presented shortly.
Lumbar Pillows
If you've ever had any problems with your lumbar area not receiving the best amount of support (which is generally a sign that you're sleeping on the wrong type of mattress), a lumbar pillow should help do the trick!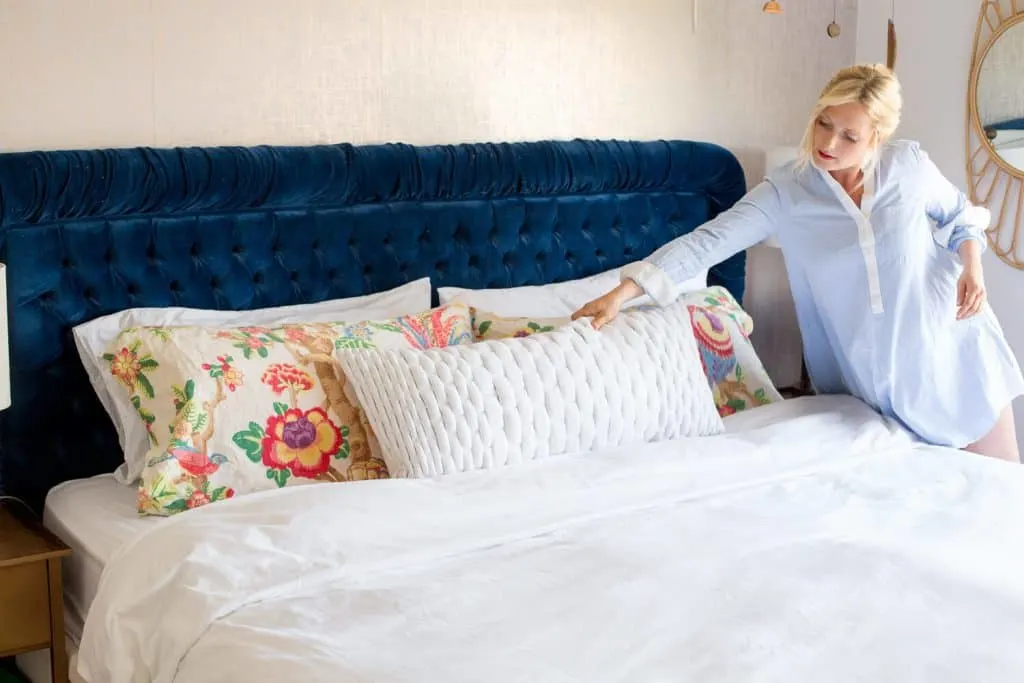 Sleep Apnea Pillow
This is our least favorite category because it's a pillow designed to provide support for people that use CPAP machines when sleeping. A sleep apnea pillow is designed for people who have trouble breathing and it can house cords and tubes used by CPAC machines.
Suitable for elevating your feet to alleviate the pain caused by foot-related problems, the Restology wedge pillow combines solid materials to deliver the best possible comfort in troubling time. Pain and discomfort in your legs can prevent you from resting as you should and the list of leg and foot problems is very long. With this pillow, you can chase away some of the pain caused by phlebitis, varicose veins, but it's also great for people who have to pass through a recovery process and need to keep their legs elevated when resting.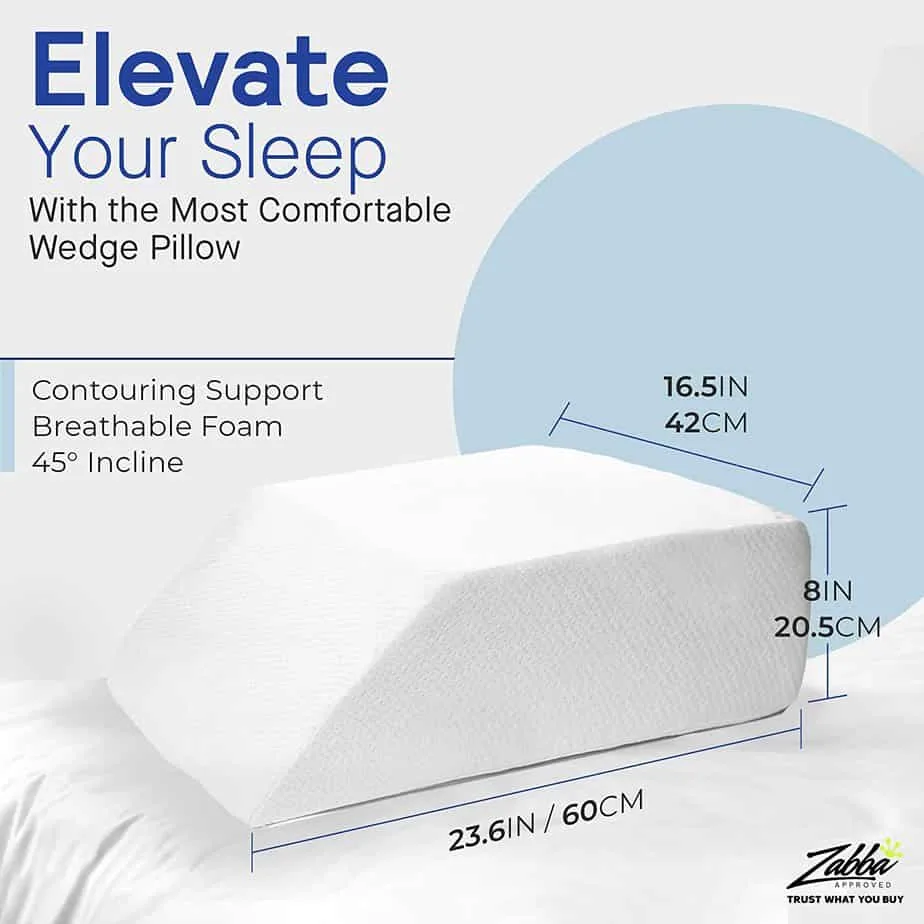 The pillow is made from dense luxury memory foam that returns to its original shape and doesn't cave under constant pressure, which means that it's won't flatten that easily. The platform is wide enough to provide space for both your feet without having to stick them together. Even if you don't normally suffer from foot problems, sleeping with your feet elevated can improve blood flow and prevent some back problems. The microfiber cover can be easily removed and cleaned in the washing machine.
Pros:
Helps alleviate a wide range of pains related to your legs and feet.
Can help solve some back problems.
Improves blood flow in your legs.
The cover can easily be removed and cleaned.
Cons:
While advertised as memory foam, its firmness suggests that it's rather a hard sponge.
Too narrow for overweight people.
Specs:
Dimensions: 17 x 7 x 7 inches
Weight: 3.02 pounds
Materials: luxury memory foam
Whether you opt for the 7 inches, 10 inches, or 12-inch wedge pillow manufactured by Brentwood home, you can rest assured that you're spending your money on a high-quality product. This therapeutic pillow is very versatile, meaning you can basically use it to elevate just about any part of your body, depending on your needs at the moment.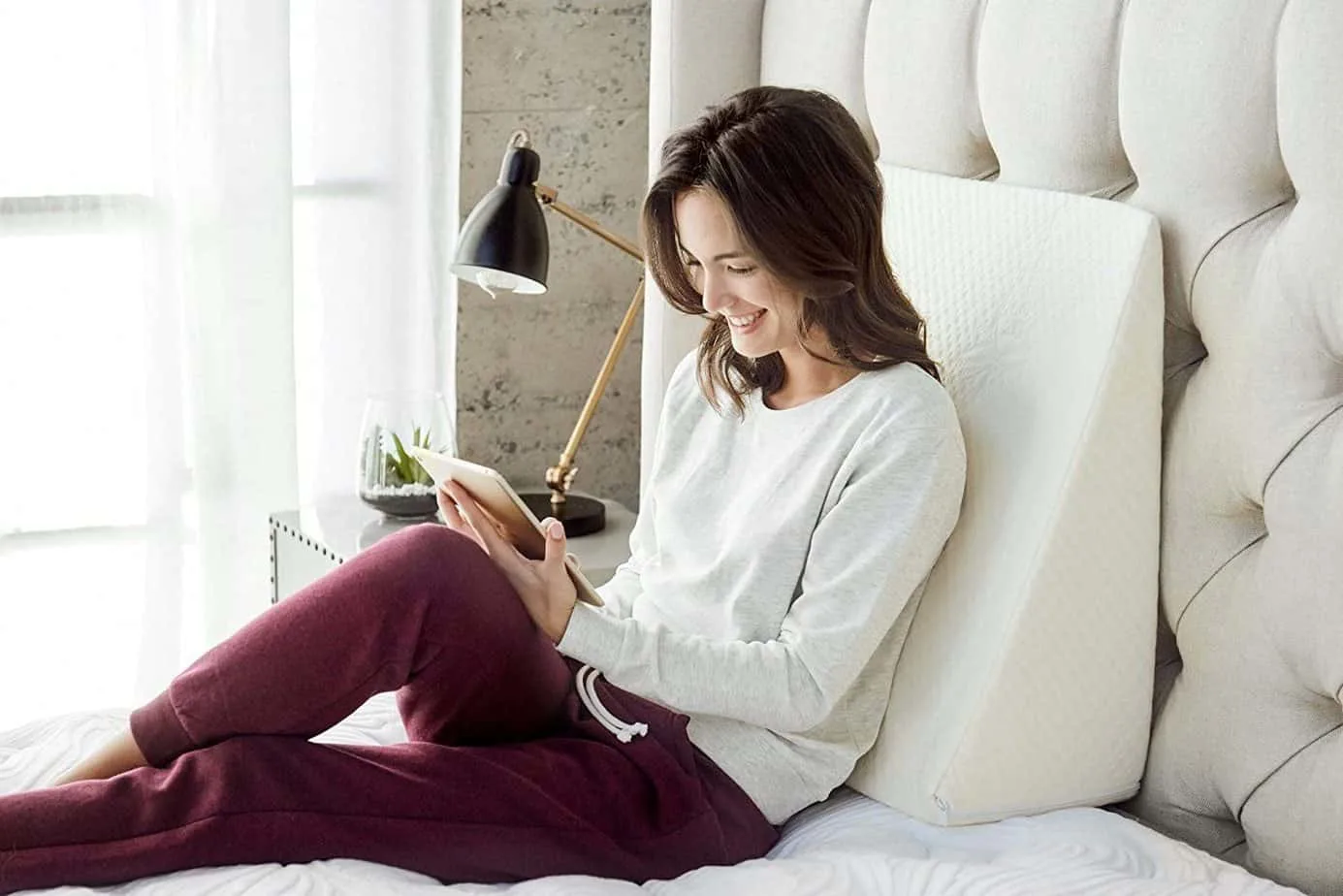 It can support you when you're reading in bed, it can elevate your feet for better blood circulation and it can even support your body when you're lying on the side. The high-density CertiPUR-US Certified foam is encased by a soft stretch knit cover, so it feels very pleasant to the touch. It's also dust mite resistant and hypoallergenic.
Pros:
Made with high-density foam, resistant under pressure.
Helps alleviate a lot of painful health problems.
Supports the sleeper to breathe better.
Provides upper body support for in-bed activities such as reading or using the laptop.
Comes in three different height options.
Cons:
The wrong height can cause people to slide off the pillow.
Foam is too hard for some personal preferences.
Specs:
Dimensions: 24 x 24 x 7 inches (for the 7 inch model)
Weight: 2.6 pounds (for the 7-inch model)
Materials: CertiPUR-US Certified foam & stretch knit cover
The FitPlus wedge pillow sports 1.5 inches of memory foam that's backed up by a premium-grade polyurethane foam base to make sure that you're getting the best out of this product. Memory foam is capable of contouring your body and acting as a mold that will eventually seem like the pillow was designed especially for you.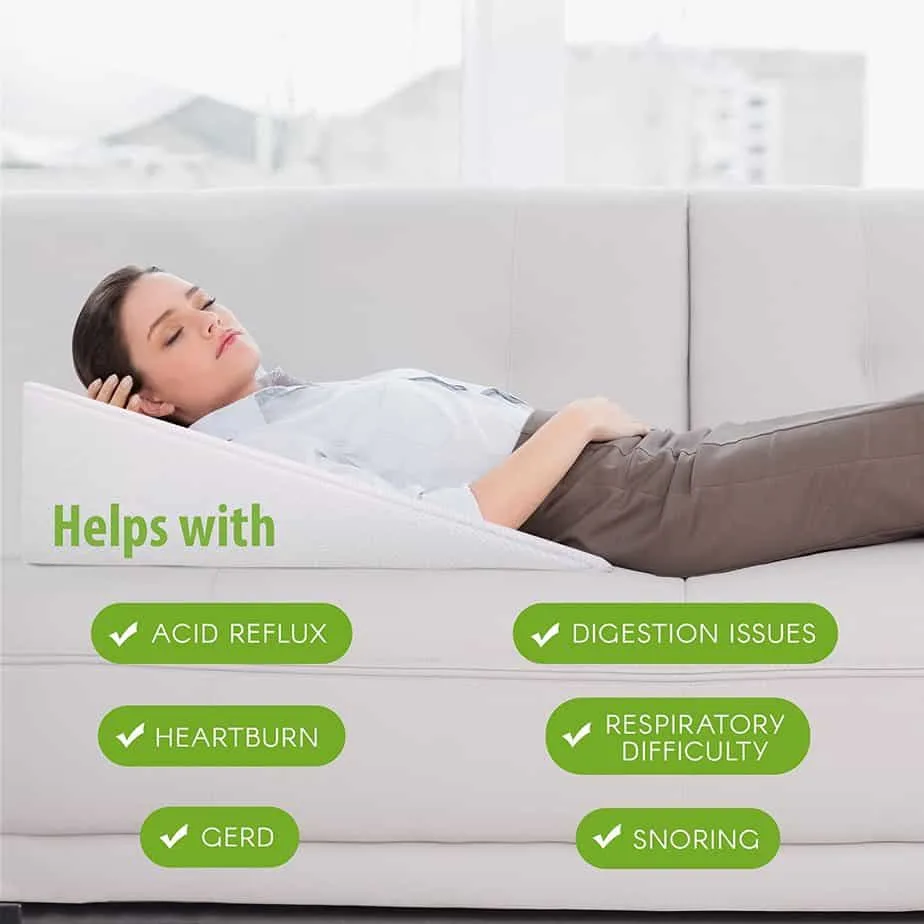 The breathable cover will surely be appreciated when things start running hot, just as we appreciate the fact that it can be removed and cleaned in the washing machine. Other than that, the pillow pretty much delivers what you'd expect and is highly comparable with other products that fall into this category.
Pros:
Recommended by people who sleep with CPAP machines.
A thinner top layer of memory foams adds comfort to the pillow.
Helps in alleviating a lot of health and breathing-related problems.
Provides great support for people who sleep on their back and want a bit of head elevation.
Cons:
Some customers complain about the pillow being too firm.
Specs:
Dimensions: 24 x 28 x 7.5 inches
Weight: 4.3 pounds
Materials: memory foam & polyurethane foam base
The InteVision pillow is available in three different sizes, to cover a wider range of needs and body shaper. The standard size is 25 x 24 x 12 inches, but you can choose the 33 x 30.5 x 7.5 inch or the 33 x 30.5 x 12-inch models as well. This wedge pillow is made from a combination of foam that's topped off by a 2-inch layer of memory foam, to make it more comfortable and soft. This combo will provide the much-needed support for different bed-related activities, while also being soft enough as to avoid making you feel like you're leaning against a rock.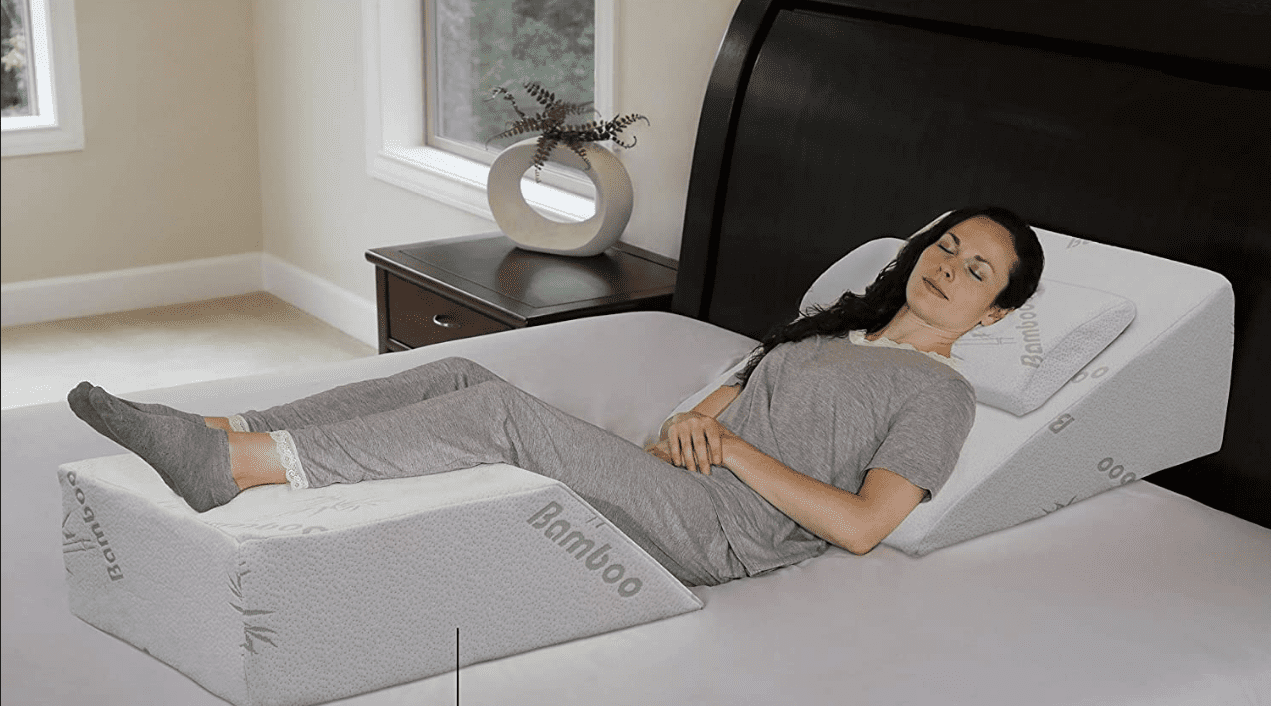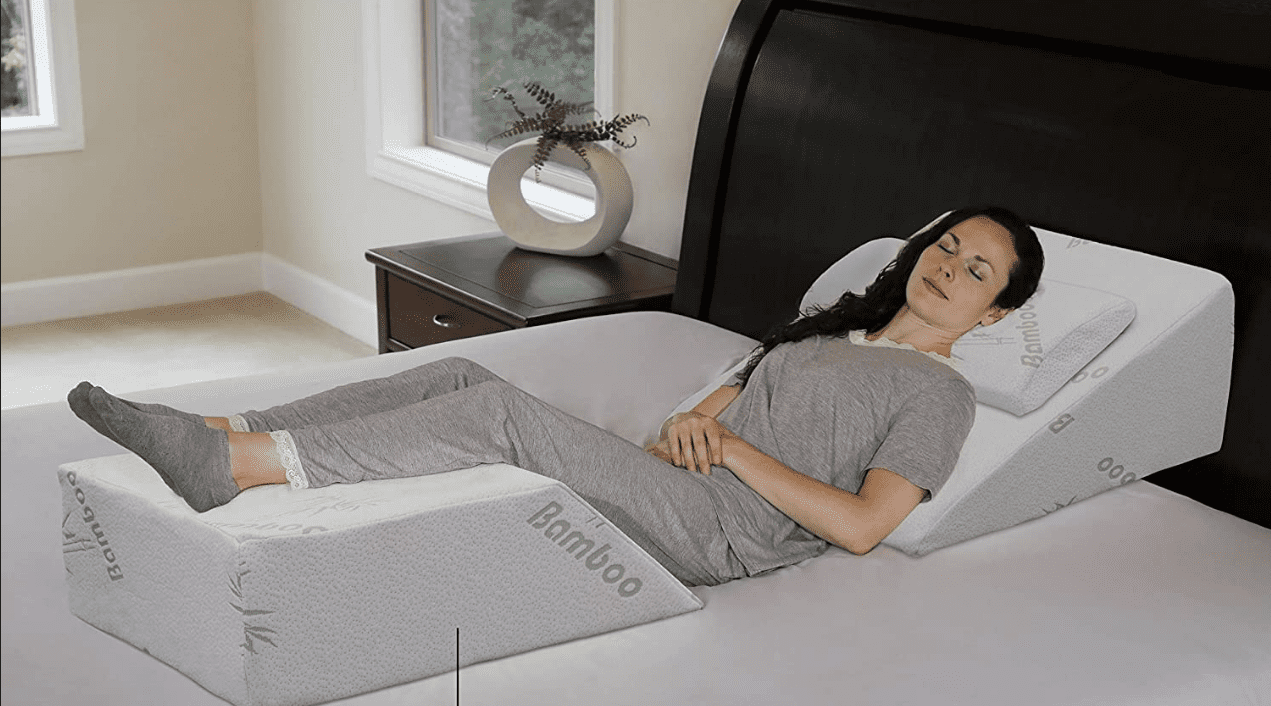 InteVision also sells some high-quality replacement pillowcases, which are made from Egyptian cotton (known to be the finest type of cotton in the world) with a thread count of 400. But the standard case is decent enough as well and it can be removed and washed in the washing machine. In case you're not happy with the product, there's a 30-day return window that comes with a full refund.
Pros:
Can be used to elevate several body parts.
The three available sizes should cover a wider range of needs.
Prevents snoring and solves breathing-related problems.
Recommended by people who have problems with acid reflux.
Cons:
When taken out of the package, it emits a strong odor.
Specs:
Dimensions: 25 x 24 x 12 inches
Weight: 4.9 pounds
Materials: foam & memory foam
Ideal for those who suffer from acid reflux, back pains and snoring, the Xtreme memory foam pillow is a great representative of its category. Made with memory foam and encased in a hypoallergenic and comfortable bamboo cover, the pillow provides good airflow for people who tend to run hot, while the quilted surface is very pleasant to the touch.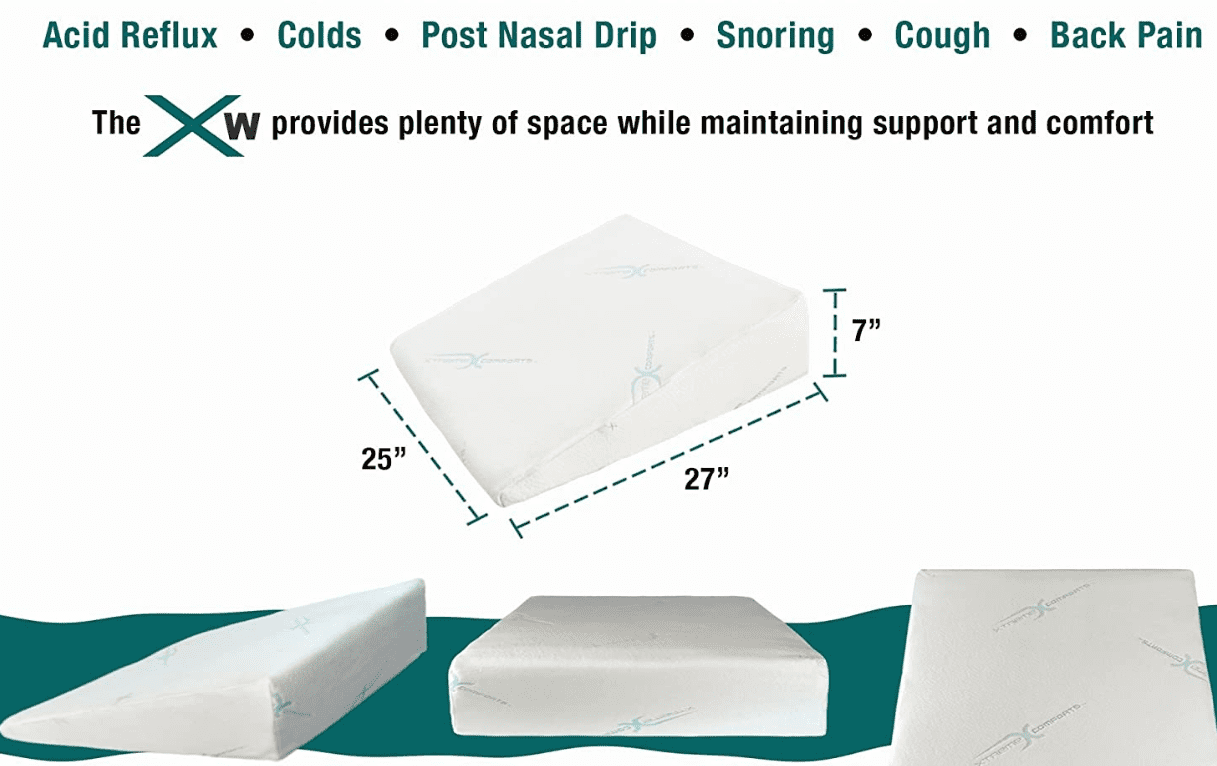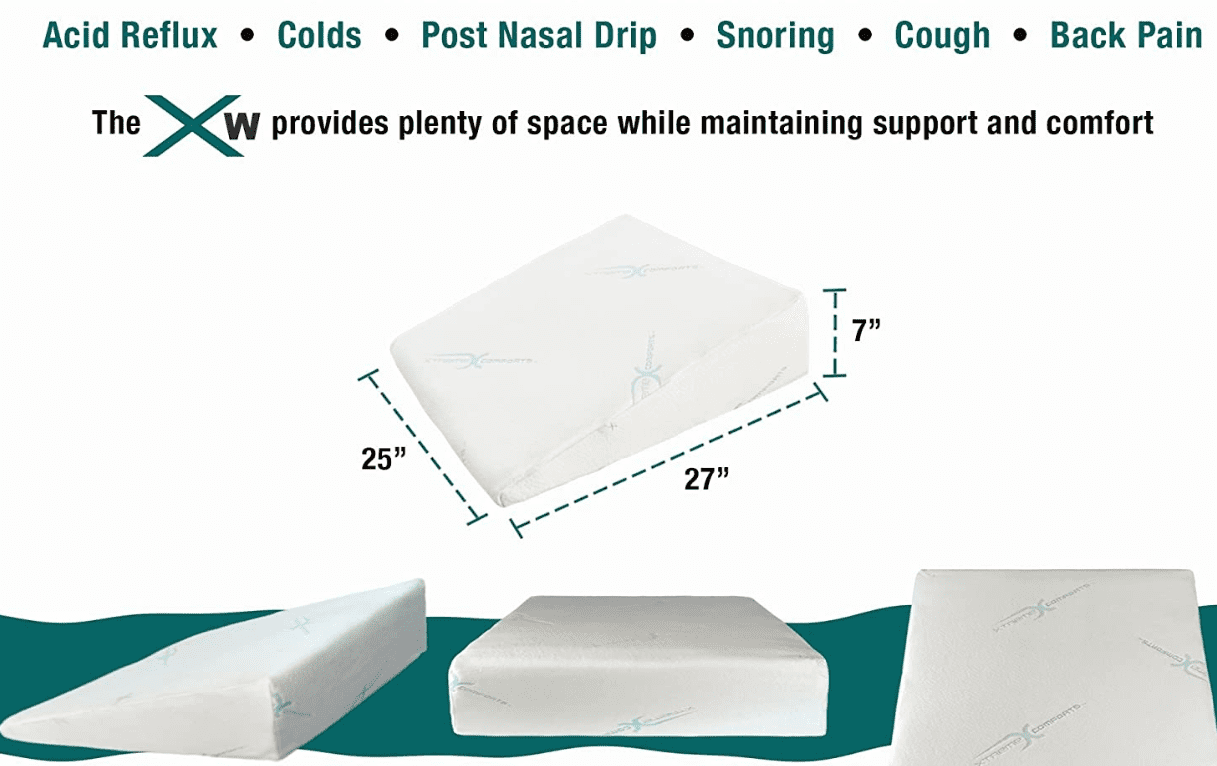 To clean it, just remove the zipper and throw the cover in the washing machine. Due to its versatility, people can use this pillow in a variety of situations. The inclination of the pillow is not too steep, which suggests it does a great job at supporting people's upper bodies when they use this product as a primary sleeping pillow.
Pros:
Comes with a lifetime warranty.
Can be purchased in packs of two or three pillow, at a better price per unit.
Is greatly versatile and can be used in a variety of situations.
Works great with an adjustable bed.
Recommended by pregnant women with limited mobility.
Cons:
Has a strong chemical smell when first unpacked.
Customers complain that the pillow is not really made of memory foam, but rather regular foam.
Specs:
Dimensions: 17 x 7 x 7 inches
Weight: 3.59 pounds
Materials: memory foam & bamboo cover
Bottom Line
The best wedge pillow is the one that meets you halfway and helps you solve your problems and covers your needs. A wedge pillow can be a true gem if you're stuck in bed for more than just sleeping. By placing the longest side of the pillow against the headboard, you will have enough support to read, watch TV, browse the internet on your laptop and even eat cereal in bed, if you feel like it. It's also a great choice for people who sleep a lot on their backs, as the gentle slope can be a viable alternative to using another type of lumpy and eventually uncomfortable pillow. Wedge pillows are great for people who suffer from respiratory problems or have issues snoring, as the slight head tilt can regulate the air intake.
Alternatively, a good wedge pillow can also provide support for side sleepers that suffer from acid reflux, not to mention the high level of support it provides at the neck and shoulders. The wedge pillow can also be placed on one's lap, acting as a support for your laptop, tablet or book. If you work from home, you've probably found yourself typing in bed more than once and a wedge pillow provides a comfortable position, as the slope gives you good armrest support when using the laptop. Placing the wedge pillow under your knees can alleviate pressure on the lower back, not to mention help with foot-related problems, such as swelling, tired muscles or restless feet syndrome.
Further read: