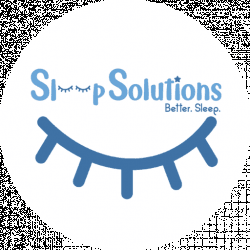 Latest posts by Sleep Solutions HQ Team
(see all)
Traveling can be an exciting experience but many people don't look forward to being stuck in cars, on trains or in airplanes. Extended trips that are going to leave you needing some shuteye on the way make travel pillows a necessity, especially for the frequent traveler. Neck pain is a serious issue that can cause long-term damage if it isn't dealt with.
A well-made, ergonomic travel pillow can make a world of difference. Here are 5 of the best high-rated travel pillows for a wide range of different travelers.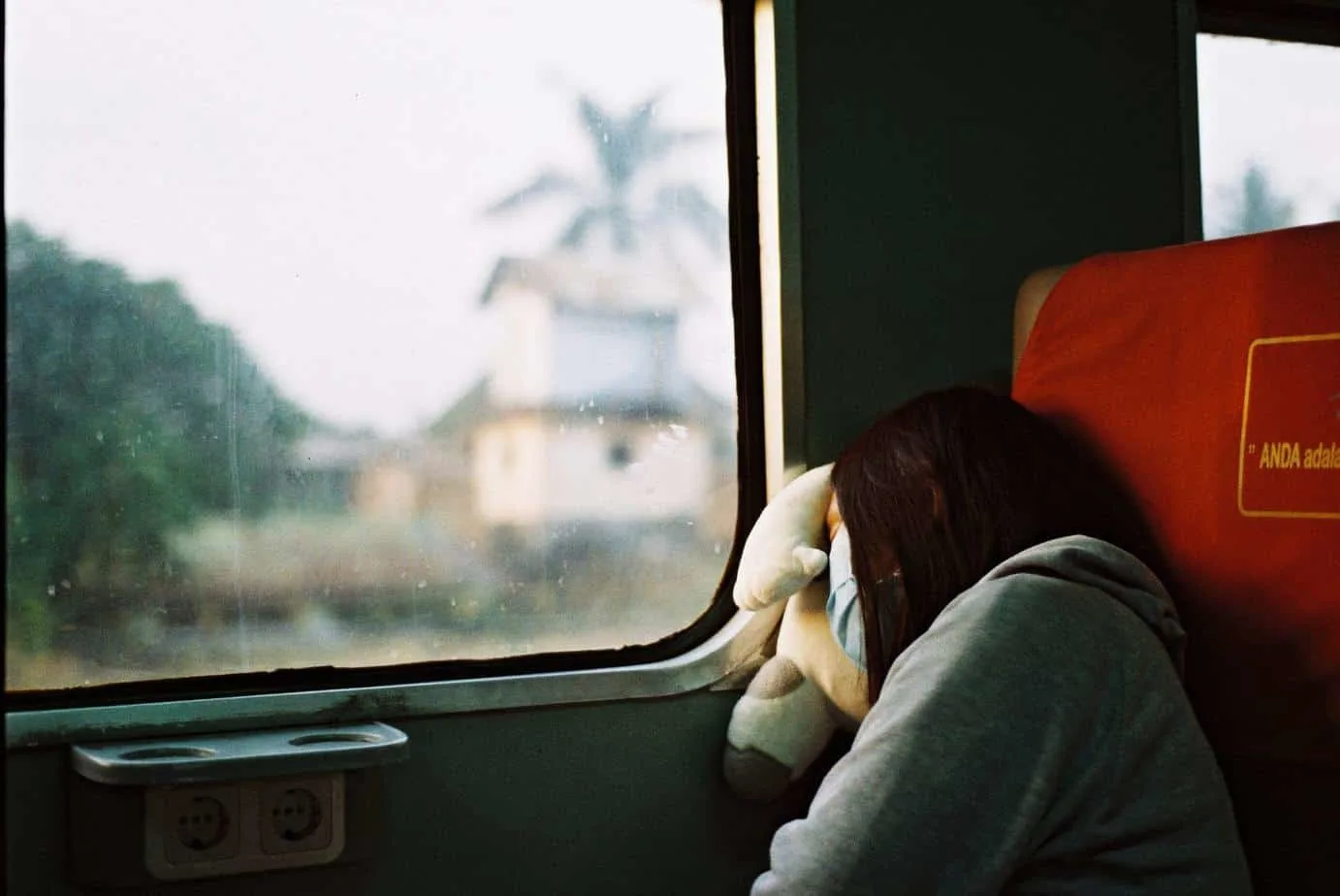 Cabeau Evolution Pillow
If you do quite a lot of traveling and want serious neck support, the Cabeau Evolution pillow should be on your list. This pillow is made of super soft memory foam to keep your head and neck comfortable.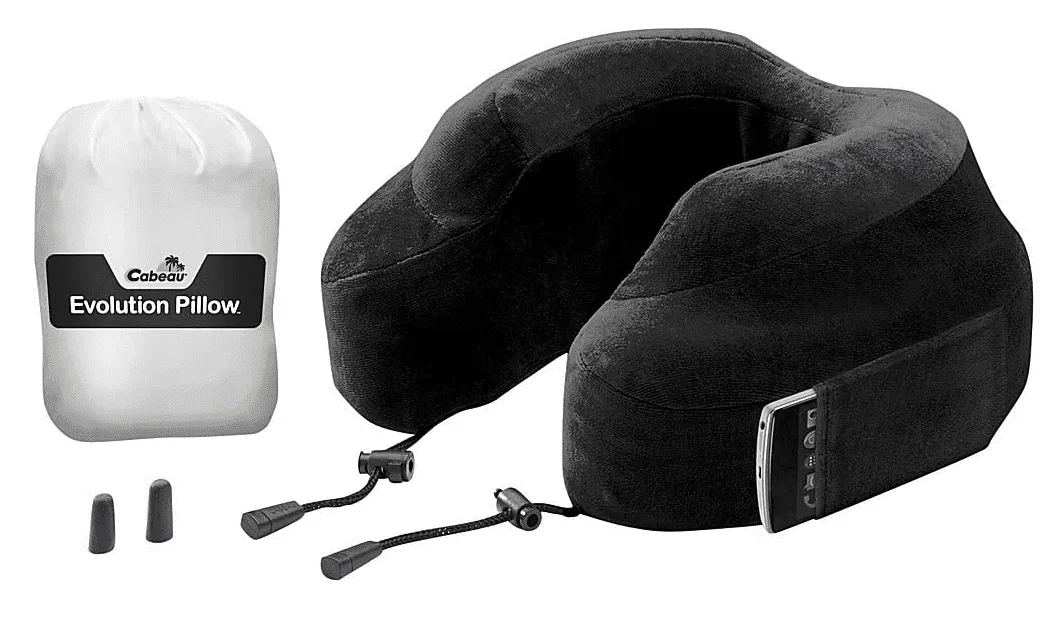 Specs & Features:
9 Color Options – Black, Grey, Pink, Orange, Crimson, Cabeau Blue, Red, Blue Tropic and Camouflage
Pillow Dimensions – 9.5″ x 10″ x 5″
Packed Dimensions – 4.5″ x 5″
Pillow Weight – 11.6 oz
Made of 100% PU memory foam with removable cotton polyester blend cover
Retails for about $39.95 from most retailers
The design of the Evolution pillow is made for complete 360-degree support. The entire pillow cradles the head and prevents neck pain. The sides of the pillow have raised bumpers which keep your head straight. If your head tends to fall forward you can move on these supports to the front of your chin.
This pillow comes with noise-blocking, memory foam ear plugs, and a strap for attaching directly to your luggage or carry-on. On the left side of the pillow, there is a media pocket that is designed for holding your phone while playing music. Finally, toggles located on the pillow ensure it stays positioned properly around your neck, even when moving around in your sleep.
Weighing in 11.6 oz, the Evolution pillow is light enough that isn't cumbersome to travel with. It comes with a compressible stuff sack which reduces the pillow down to a small 5″ tall by 4.5″ diameter tube.
Travelrest Inflatable Travel Pillow
Sometimes a normal travel pillow just doesn't cut it. Maybe the traditional wrap-around neck design makes your feel claustrophobic or you are a side sleeper that has trouble getting comfortable without neck pain. The unique design of the Travelrest could be the pillow you've been looking for.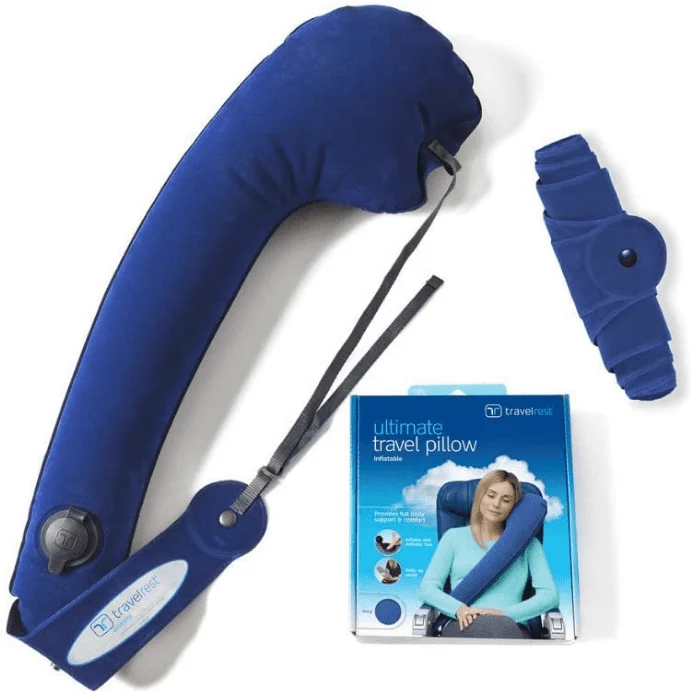 Specs & Features:
4 Color Options – Blue, Red, Gray and Moss
Compresses down to a 2″ x 9″ x 3.5″ tube
Weighs only 7oz
Attaches to most car and airplane seats
Can be worn in numerous positions
The Travelrest Pillow instantly catches your attention due to its unusual shape. This pillow is designed to provide support in multiple positions but primarily hugs the body in a messenger bag style way – on your preferred shoulder and across your torso. It is one of few travel pillows that actually gives lateral support of the upper body, rather than focusing solely on supporting the head.
Rather than relying on memory foam, Travelrest decided to go with a super simple inflatable design. This pillow only takes a few deep breaths to inflate and will deflate in seconds once you're ready to go. It rolls into a small package that is easy to travel with on planes, trains, or other cramped spaces.
J-Pillow Travel Pillow
Traditional U-shaped travel pillows don't work for everyone, especially those that prefer sleeping with their head slightly tilted to one side. The J-Pillow is a rather ingenious design that offers triple support for the head, neck, and chin.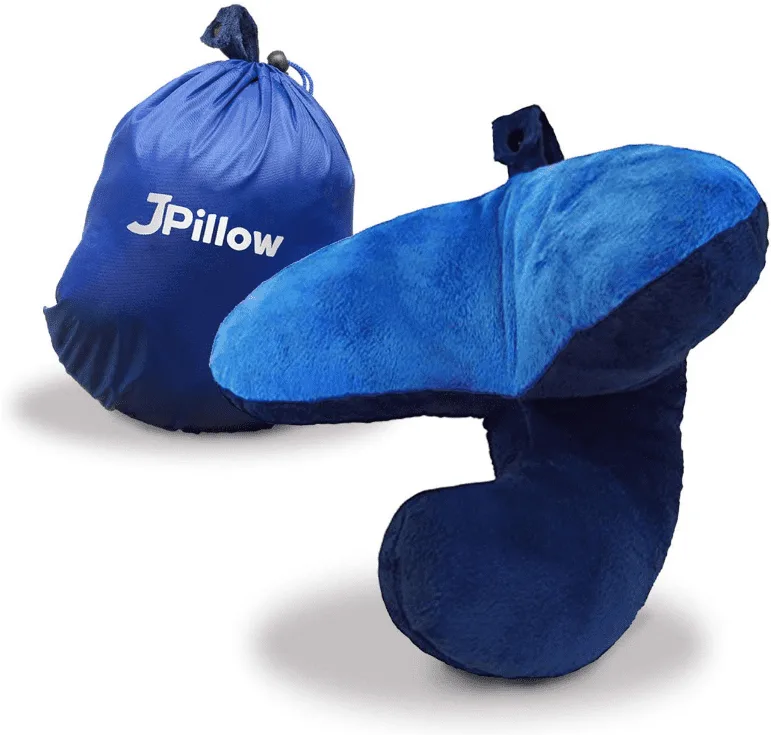 Specs & Features:
Available as a memory foam padded pillow or inflatable pillow version
7 color range – Grey, Green, Pink, Navy, Red, Zebra print and Leopard print
Won the 2013 British Invention of the Year Award
Comes with a snap fastener for attaching to luggage or carry-on
Can be squished down into a compact ball (compression strap sold separately)
Ultra-hygienic design allows you to wash the entire pillow in your washing machine
By having a J-shape to this pillow, you get more than just head support. Instead, you have a pillow for your chin and neck as well as both the back and side of your head. This close fit ensures the normal gaps between the head and shoulder are filled, which relieves pressure on the neck. The chin support is perfect for prevent head bobbing while dozing off. The side support is very comfortable for those that like side sleeping, but also has the benefit of keeping your head off your neighbor when on a cramped plane.
Since this pillow doesn't rely on the seat for support, it works well for both high and low back seats/chairs. If lumbar support is a concern in an uncomfortable chair, you can ball up the J-Pillow for your lower back.
HoodiePillow Inflatable Travel Pillow
Some travelers can't get over the idea of people seeing them sleep or are very sensitive to light and won't be able to get sleep unless their eyes are covered. Instead of having to wear a hoodie or use a blanket to cover your face, you can the HoodiePillow. This simple little pillow performs a double-duty that may be just what you've been looking for.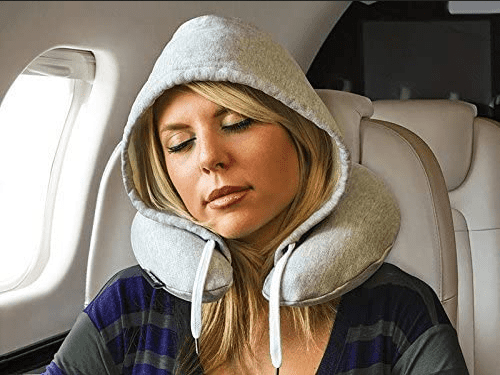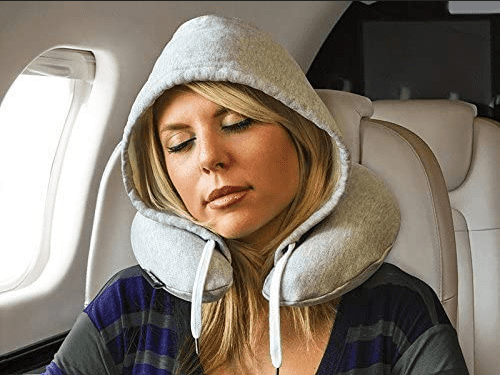 Specs & Features:
Available in 6 colors – Fire Red, Ocean Blue, Heather Gray, Black, Purple and Pink
Perfect for road trips, air travel, bus rides, naps and more
Provides privacy and basic neck support
Inflates quickly and compresses down to a size small enough to fit in a purse or small bag
Super soft material makes this pillow feel like your favorite hoodie
Adjustable drawstrings allow you to cinch down the hood for maximum light blockage
Many people love hooded sweatshirts for traveling because it allows them to cover their faces. This privacy can make all the difference when it comes to actually fall asleep and tuning out from the world around them. Sometimes wearing an actual hoodie isn't an option, not to mention wearing a hoodie with a normal travel pillow can make things bulky around the neck. This HoodiePillow provides the best of both worlds.
This pillow is inflatable, though they also have a thicker memory foam padded HoodiePillow available.
AirComfy Travel Pillow
The AirComfy was designed for travelers that wanted to get some sleep on their flight without having to resort to bulky neck pillows. Their sleek pillow works perfectly well and is versatile enough that you'll be tempted to use it for car trips or even at home on the couch.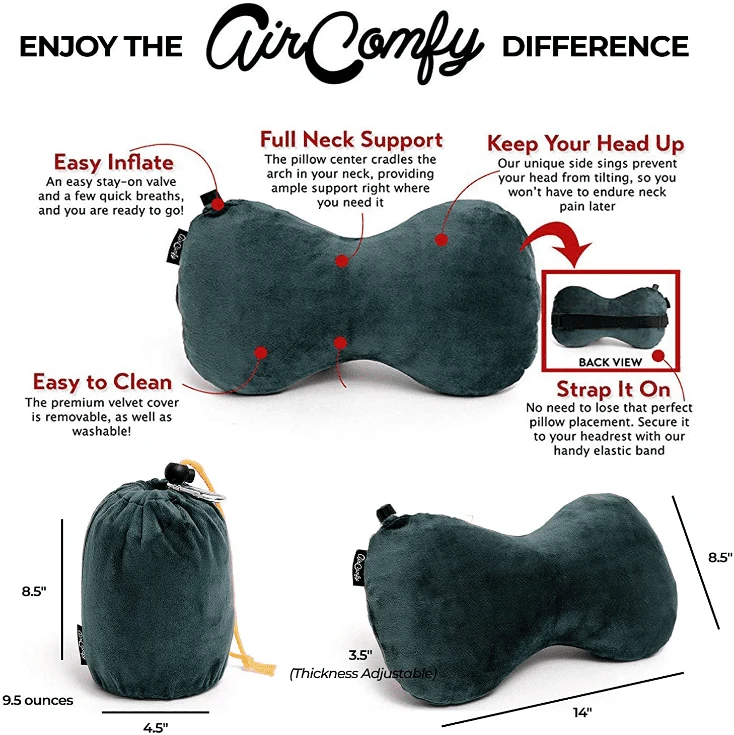 Specs & Features:
Available in black or gray
Inflatable design only takes a few breaths to fill
Curved shape provides support on the arch of the neck
Dipped center and slightly raised side wings keeps head from rolling
Slim design prevent claustrophobic discomfort like traditional U-shaped pillows
Elastic band on back of pillow lets you strap it firmly onto seat to prevent movement
The AirComfy is another fairly simple-looking travel pillow that provides a surprising amount of comfort. Travelers that prefer the feel of a traditional pillow rather than the neck-hugging travel variety will like how this pillow works. Its hourglass shape helps keep the head in the right position to prevent muscle fatigue, aches, and cricks in the neck.
Overall it is very low profile but feels closer to a padded pillow than most hollow inflatable ones, thanks to the small amount of interior foam for added rigidity. The elastic strap on the back lets you cinch this pillow down to your airline, car, bus, or train seat to ensure that once you find a comfortable position, you won't have to worry about repositioning the pillow.
If you really want something basic for everyday use in the car and the occasional short airline flights, the AirComfy is a great choice.
Some Final Thoughts
Travel pillows are popular for good reason. If you haven't been using a travel pillow on your adventures, you should give it a shot. This is especially true if you've been dealing with neck soreness or general muscle fatigue.