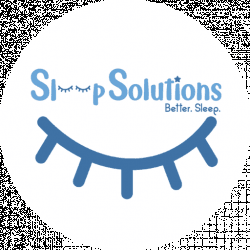 Latest posts by Sleep Solutions HQ Team
(see all)
Musty, paper-thin futons were once commonplace in dorm rooms and first apartments. They were extremely uncomfortable, and many of the accompanying futon mattress frames did little to provide proper back support. Thankfully those days are long gone, and with some careful shopping, you can find quality comfortable futons that stay within a low budget without sacrificing comfort.
Futons do have their advantages over a normal couch. They are less expensive, which can be important for those with a strict budget, and can convert from seating to a bed easily. Even if you don't have a proper futon frame because you prefer to sleep directly on the floor, you can easily roll up the futon and store in a closet as many Asian cultures still practice. If you haven't tried out new models of futons in recent years you might be surprised at how much more mattress-like they are now.
Here are 4 futon mattresses that are comfortable, have impressive loft longevity, and will work well with the majority of futon frames.
Blazing Needles 10″ Queen Solid Cotton Futon Mattress
Blazing Needles is a good all-around futon brand. They are a popular brand on retailer websites like Wayfair and tend to be very competitively priced. A great queen-sized mattress is their 10″ Solid Cotton Futon. The tufted appearance eliminates that "cheap" look associated with flat futons. Combined with a nice frame, this futon mattress can look quite at home in any living room.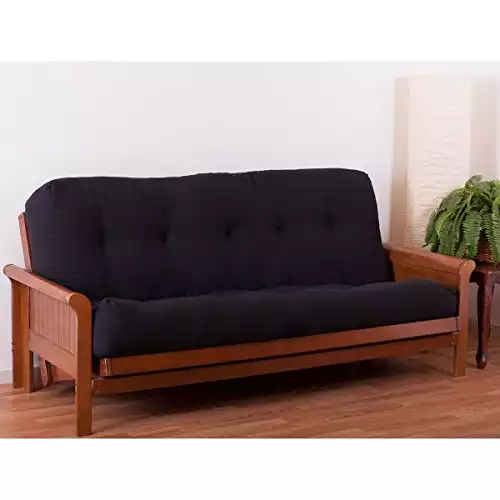 Details:
Available in nine colors – Black, Chocolate, Eggshell, Toffee, Forest Green, Indigo, Red, Sage, and Royal Blue
Dimensions are 60″ x 80″ x 10″
Weighs roughly 75lbs
100% cotton mattress with microfiber cover
Dacron foam provides maximum comfort without sacrificing support
Compatible with queen-sized futon frames
Retails for about $250
The Blazing Needles 10″ Queen futon doesn't have the most impressive detail list, as this is a fairly basic mattress. This can be a real benefit, however. It is made of 100% cotton materials and covered soft microfiber. Rather than just being stuffed with cotton batting, which can become packed and uncomfortable over time, Blazing Needles added Dacron foam for a little bounce.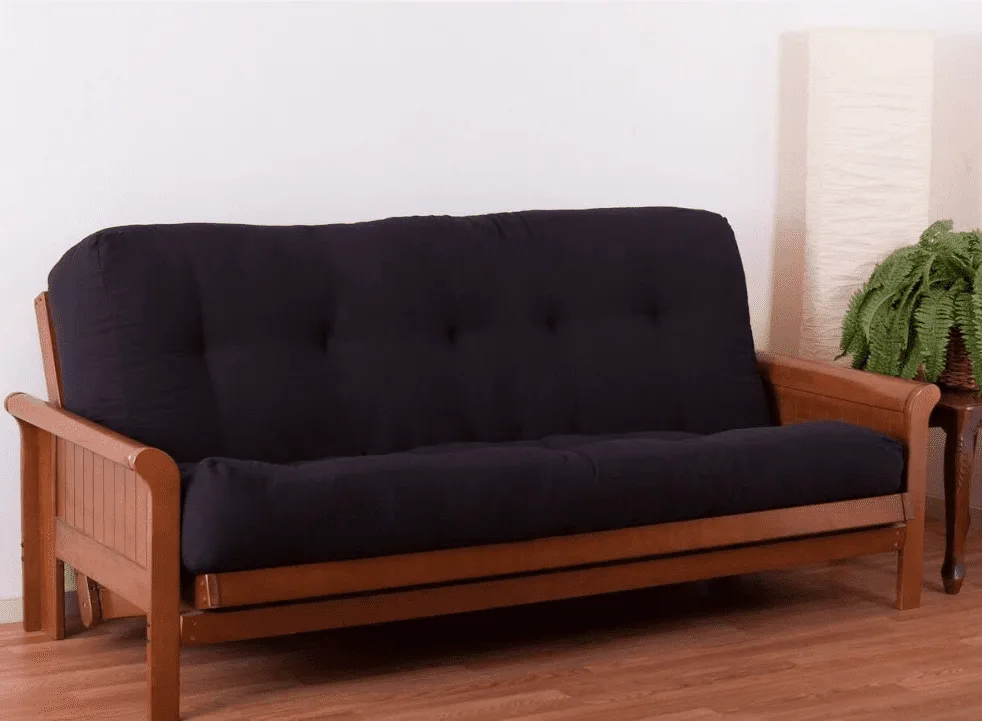 Queen size mattresses are a good size for those that will use their futon as an alternative to a guest. It offers more sleeping room for a couple than a full size, and due to the increased width, may be more comfortable to sit on as a sofa for those that are taller than average. The price point of under $250 is on point for the quality of this futon, and the wide selection of cover colors is really appealing.
Reviews
"Very comfortable. In fact, we like it better than our sofa bed." dmill, Amazon

"Unlike so many futon mattresses that feel like you're sitting/laying on the frame, this is definitely higher quality that delivers a firm mattress couch feel that gives a comfortable sitting and sleeping futon! Definitely worth the price is you are using your futon for more than decoration." J.Melton, Amazon
Gold Bond 10″ Foam and Cotton Futon Mattress
There aren't many futon mattress brands that offer such expertise as Gold Bond. Gold Bond has a huge product list, all of which tend to have very happy customers backing them. If you enjoy a firmer feel to your futon but are struggling to find something comparable to a medium firmness coil mattress, the 10″ Foam and Cotton Futon is one you'll definitely want to try.
Details:
Available in four sizes – Twin, Full, Queen, and King
Dimensions vary from 39″ x 75″ x 8″ up to 76″ x 80″ x 10″
All sizes come with white-colored cover
Cover made of blend of 55% cotton and 45% polyester
Double layered cotton and foam gives the futon an equivalent feel to medium-firm mattress
Quilted tufts provide maximum loft and comfort versus flat futons
Retails for $369.99 to $583.14, depending on size
Gold Bond has this futon mattress model in all major mattress sizes, though the twin is available in 8″ versus 10″. All are available in white, though this isn't much a concern as finding futon mattress covers isn't difficult. Not to mention using a removable cover is recommended anyways, in the event of accidents like spilled drinks. The white cover is fairly durable, being made of a cotton and foam blend that is pretty easy to spot clean.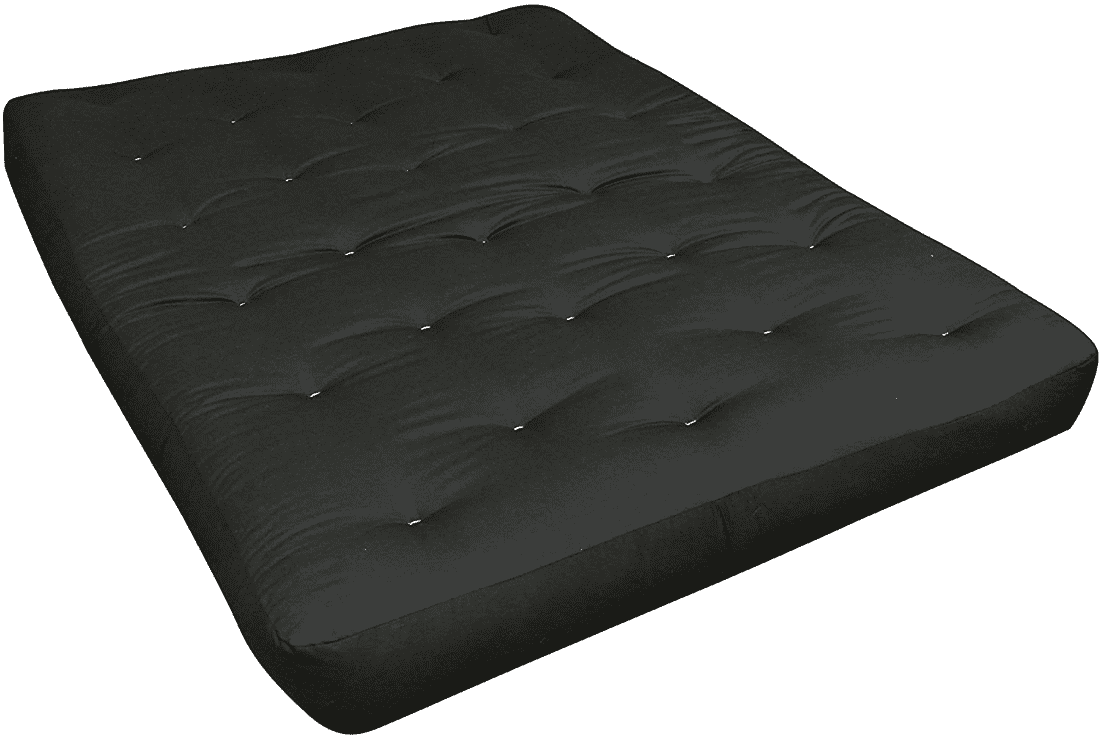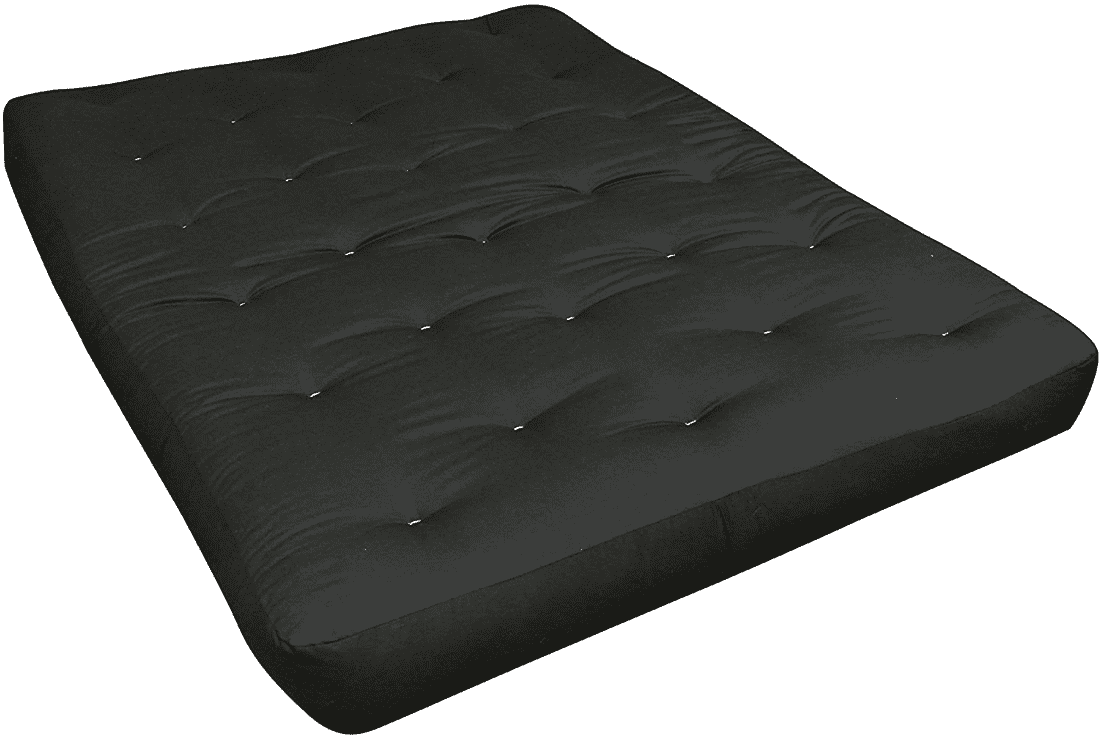 A cross-section of this futon will show that there are 5 layers. Cotton batting is the major material used, but there are also two layers of supportive foam to improve comfort and mattress integrity. Gold Bond finished this mattress with nice-looking quilted tufts, which helps prevent batting from moving around or being lumpy over time.
This futon mattress is more expensive compared to similar-sized models but it is really worth the extra price for a premium product. If you want a really comfortable futon that can be used for seating or as a bed on a daily basis, this would be a great choice.
King Koil 8″ Multi-Layer Cotton Foam Futon Mattress
Eco-friendly futon mattresses are more difficult to find, but it's certainly not impossible. King Koil's 8″ Multi-Layer Cotton Foam Futon Mattress is made of recycled and eco-friendly materials so you can feel better as a consumer.
Details:
Available in seven sizes – Twin, Twin Split, Full, Full Split, Queen, Queen Split, and King
Dimensions vary from 39″ x 54″ x 8″ to 76″ x 80″ x 8″
Mattress made of a cotton, foam, and fiber blend
Construction includes three layers of 1″ eco-friendly foam and two layers of ½" recycled fiber
Medium batting provides a firmer support than most similar priced mattresses
8″ box bordered design for longevity
Retails for $129.99 to $379.99, depending on size
One thing that sets King Koil's mattress apart from the competition is the number of sizes it comes in. You get all the normal mattress sizes, along with split mattresses. You can even get this same 8″ multi-layer futon in ottoman, loveseat, and chair form.
A cross-section of this futon will show 5 alternating layers of 1″ foam and ½" recycled fiber. This combination of materials provides support and improves the futon longevity. King Koil even gave this model a 5-year warranty, which is excellent for a futon. The overall feel of this mattress is close to a medium-firm feel, which is more comfortable than overly soft futons that don't provide enough back support.
This product is currently unavailable on Amazon, but keep checking here for updated links and alternatives.
DHP 8″ Encased Coil Premium Full Futon Mattress
If you're really on a budget but you don't want to be stuck with a paper-thin, cheaply made futon you might want to check out the DHP 8″ Encased Coil Futon. Priced under $180 for a full sized futon is fairly low, but this mattress will still give you a good night's sleep.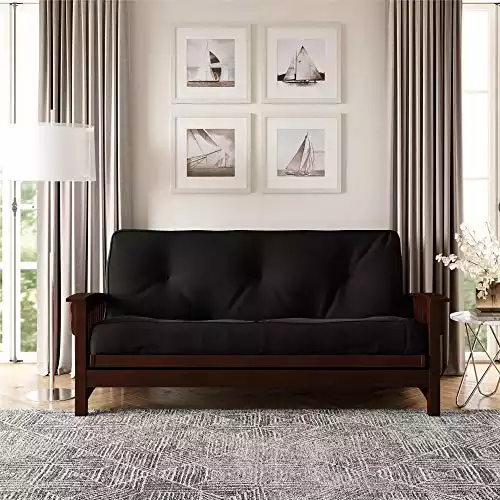 Details:
Comes in three colors – Black, Chocolate Brown, and Tan
Full size mattress with dimensions of 54″ x 75″ x 8″
Weighs about 57lbs
Reversible design and easy spot clean microfiber cover
Foam and polyester layered construction between coils and cover
Foam uses is safe, free of chemicals, low in VOC emissions, and CertiPUR-US certified
Compatible with most full-size futon mattress frames
522 independently encased 15g coils for impressive back support
Retails for about $180 as of this writing
This futon is made similarly to traditional mattresses, as it relies on independently-encased coils for support. There are over 500 small coils inside this mattress, along with foam and batting between coils and cover to ensure this futon stays soft and cozy. The use of coils means this futon will last longer than similar priced futons. DHP didn't skimp on using safe materials easier. Inexpensive futons tend to have a characteristic chemical scent due to the materials used in construction, but this model is free of chemicals and dangerous VOCs.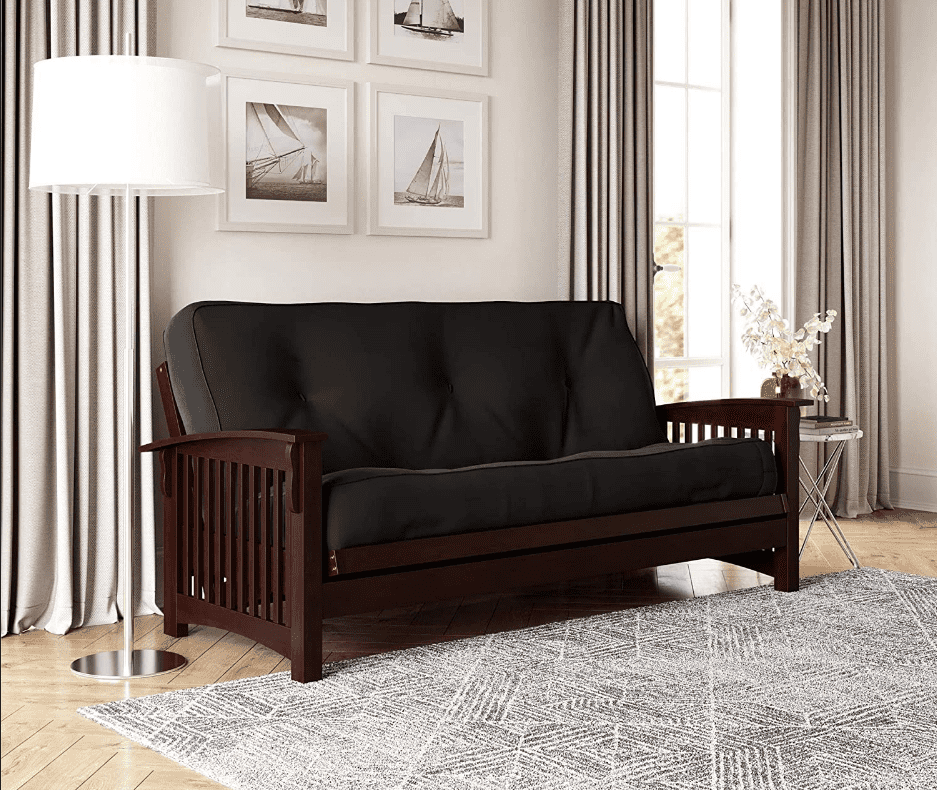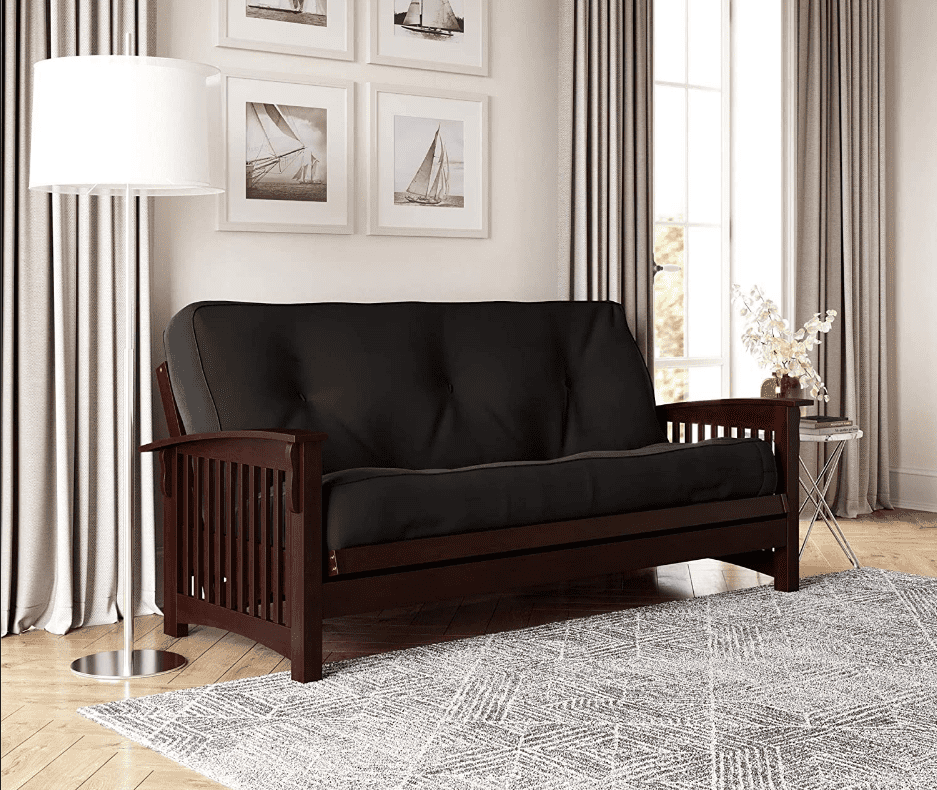 Reviews
"My favorite purchase ever! I love this mattress. It fits perfectly on my futon frame and is ridiculously comfortable. After sitting on it one time I couldn't convince myself to get up until the next morning. I've now had it around 8 months and it is still like new." Beck, Amazon

"I cannot say enough good things about this mattress. Now 4 years old and it feels and looks brand new with normal rotation (at least weekly when I change the sheets). I keep it covered though the top is designed to be shown if one wishes. The plastic coils have maintained their original flexibility and strength and the memory foam like top layer has continued to be extremely comfortable. I was surprised how a combined spring and mattress works so well." Philip, Amazon
Some Final Thoughts
Futons are ideal for a kid's or teen's room, a dorm room, small living rooms, or as a bed alternative in guest rooms. While the 4 mattresses mentioned above are some of the best on the market, be sure you take the time to choose the right frame. Naturally, flimsy hollow bar futon frames may be inexpensive but are often cheaply designed and will make a plush 10″ mattress uncomfortable over time. Instead, invest in a solid frame that will last. Remember, a well-made frame will not only make your high-quality mattress the most comfortable and supportive it can be, but it will also still be usable long after your mattress needs to be replaced.